Are you in need of some inspiration for Christmas gifts for her? I've compiled this list, for a range of ages and tastes of the lasses you love, to give you gift ideas that she'll treasure.
Beauty and Make Up For Her
Beauty Selection in Rose Gold
Tarte Tartelist Pro Glow, Hourglass Ambient Palette and Maine Beach Mt Macedone Rose Body Lotion
Give the gift of a rose gold glow.
Light-reflecting liquid highlighter to illuminate all skin tones with a healthy, dewy glow. She will glow like the goddess you know she is with this creamy highlighter that builds from sheer to intense.
Get in her good books with the must-have 0f this season! This sleek and travel friendly palette contains six Ambient Lighting shades, with three of those being new limited edition Holiday shades, so perfect for traveling.
Inspired by the traditional glorious gardens of Mount Macedon in Victoria, this latest collection celebrates the magnificent region. Certified organic rosehip oil further enhances this range with top notes of delicate spice, over luscious rose, crushed violet and citrus leaves on a base of cotton blossom and cloves.
Melli Cosmetics Velvet Primer
Worn on its own or under make-up, VELVET is like skin, but better. Just like a retoucher, the velvet-touch mousse primer re-textures skin to give a soft, luminous finish. It also smooths fine lines and skin imperfections with its innovative line and pore filling technology. Silicone gel works to absorb oils whilst delivering a soft, lightweight and silky feel. VELVET's active ingredient White lily Bulb flower extract, gives emollient and antioxidant properties to keep the skin nourished and help reduce the appearance of pores.
Made in Italy, the mecca of beauty, VELVET is non-colour specific and is your answer to creating flawless skin or the perfect make-up base.
Anastasia Beverly Hills Glow Kit – Moon Child
This is another of the popular highlighter palettes for this holiday season and you don't need to colour match, so perfect for the makeup maven at any age. I would suggest though that it would be loved by those with smoother skin, so shimmer can show up wrinkles and enlarged pores.
Bring in the seasonal magic with magically-metallic highlighters offering a celestial skin finish. Layer shades of ABH Glow Kit, together or sweep them separately on face, eyes and body for a kaleidoscopic, shimmering effect.
Blue Ice – Diamond white with an icy blue reflect
Star – A moonstone fusion of mint, platinum and silver reflect
Purple Horseshoe – A glittering lavender with an arctic blue reflect
Pink Heart – Pearl white with a pink opal reflect
Lucky Clover – A shamrock-infused gold with canary yellow diamond reflect
Blue Moon – Frozen blue with a silver reflect
Give the gift of ageless Skin With Jurlique Nutri-Define
The women in your life over 45…
Indulge in a luxurious ritual for ageless beauty as you target the multiple signs of ageing – from deep lines and wrinkles, to sagging and uneven skin texture. Discover Jurlique's Christmas Gift Sets
MECCA MAX HOLO HITS Holographic Special Effects
Light up her life – Teen daughter or 20+ relative/friend
Take your makeup looks to another dimension with this duo of holographic topcoats. This addictive holographic formula changes colour as you move for magic makeup that takes you from day to disco in a matter of moments. Use individually or layer over one another for double-duty festival style. Includes this season's love affair with Holo-Glam Special Effect Topcoat (4.6ml) and a Holo-Glitz Special Effect Topcoat (4.6ml) $35.00 from Mecca Cosmetica
The Soak Life Body Oil and Bath Salts
A gorgeous pampering gift and suits all ages except children. Natural. Vegan. Cruelty-Free. Made in Australia.
Close your eyes and be transported to Bora Bora with the luxurious scent of Tahitian Gardenia.Pair this Salty Bath Soak with our Tropical Glow Body Oil for the perfect paradise escape.
This multi-tasking oil with the luxurious scent of Tahitian gardenia contains a blend of tropical oils including coconut, watermelon, kukui nut, passionfruit & shea oil.
This clean, floral scent smells like a cool, tropical breeze.
With a mix of tropical flowers including hibiscus and star jasmine on a warm amber base.
Chocolate Cleanse with Raw Cacao and Activated Charcoal (left) and Bean Body Coffee Scrub
Who doesn't want to lather themselves in chocolate?
This luxurious blend of cacao, kaolin clay + activated charcoal will leave your skin + hair soft, cleansed, + smelling like chocolate cake.
Minimalist doesn't have to mean basic. Replace your dry shampoo, shampoo + conditioner, body wash, face wash, scrub + mud mask with this little treat.
Treat your skin to the Bean Body Coconut Coffee Bean Scrub; a luxurious, skin-renewing formula infused with Organic Cold-Pressed Coconut Oil to hydrate, exfoliate and soften from top to toe. Cruelty free. Vegan friendly. No parabens.
Alpha-H Petite Holiday Collection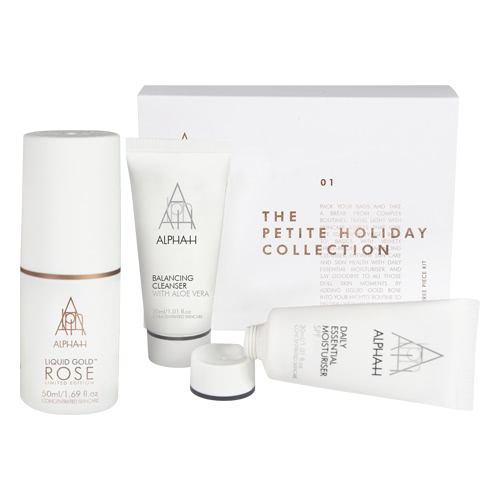 This range was the stand out skincare range for me this year. Let the woman in your life travel light this holiday season with skincare staples that give life to simplicity. The Alpha-H Petite Holiday Collection is a back to basics three piece set including the Balancing Cleanser, Daily Essential Moisturiser SPF 30+ and Liquid Gold Rose.
The Beauty Chef Holiday Glow Pack $80.00
The perfect gift for daughter, mum or grandma! We all want good skin!
Give her the holiday glow with The Beauty Chef Holiday Glow Pack. This provides an internal skin moisturiser and internal skin serum needs. The perfect pair for supporting the skin, from the inside out, throughout the summer months.
Inspiring Books For Her
'The Game Changers'
Success Secrets from Inspirational Women Changing the Game and Influencing the World' by Samantha Brett and Steph Adams. Inspire the women in your life from 16 and over.
This book is available at Booktopia.
'Lifestyle – Hopewood's recipe for wellbeing'
A gift for mum and grandma, who want to get spa healthy at home.
'Lifestyle – Hopewood's recipe for wellbeing' is a limited edition coffee-table styled book features over 100 mouth-wateringly delicious vegetarian recipes, gorgeous photography and abundant natural health wisdom. Its 270+ pages are designed to inspire readers to eat, move, heal and nurture their bodies naturally.
Hopewood's proven natural health philosophy and wellbeing wisdom, passed down over 55 years at Australia's original health retreat, is here to help you lead a healthy and happy life.
Visit www.hopewood.com.au to purchase a copy today!
"A Modern Woman's Guide to A Natural Empowering Birth" by Katrina Zaslavsky
A gift gor the mother-to-be who wants as natural a birth as possible.
Have you got a pregnant friend who wants to take the naturally empowering path? Meet Katrina, founder of Birth Goddess, in her recent TV interview where she intimately discusses her positively transforming natural birth experiences and how she was profoundly impacted by her own personal journey into motherhood. She also introduces a new possibility and paradigm of birth with the release of her new book.
2018 Australian Women's Health Diary
A beautiful gift that gives back. perfect for someone who doesn't use digital diaries, so probably and busy older mum or grandmother.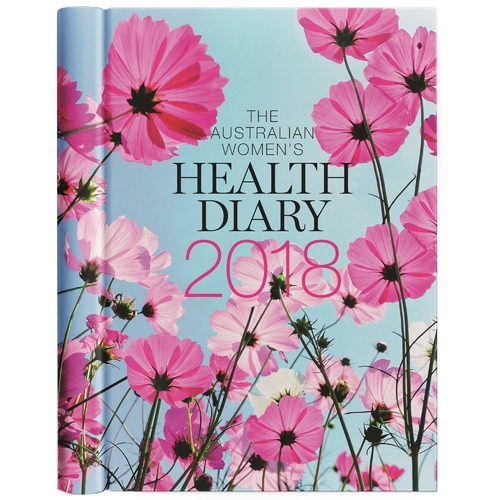 Not only is the 2018 Australian Women's Health Diary a practical, every day diary to help organise busy lives, it's also packed with the latest health issues important to women – like breast, heart, bone, family and mental health, along with diet, exercise, skincare and lots more. Best of all, every diary sold funds clinical trials research to save and improve the lives of people with breast cancer, every day. Buy the diary for yourself – or as a gift for that special someone – and help to save lives today, tomorrow and forever.
'Paris Dreaming' by Katrina Lawrence and 'Paris: Through a Fashion Eye' by Megan Hess
The two must-have books for the Francophile in your life!
Katrina Lawrence first fell in love with Paris at the age of five, and since then her roads have continually led her back to this most beautiful of cities.
Taking us on a journey around Paris's most spectacular sights, hidden secrets and most beguiling nooks and crannies, Katrina tells us the story of why this city has been her constant inspiration through all stages of life. Musing on everything Parisian, from femininity to feminism, politics to perfume, and of course, those stylish Parisiennes who captivate us, from Brigitte Bardot and Madame de Pompadour to Simone de Beauvoir and Catherine de Medici, Katrina shares the essential life lessons that Paris has taught her.
Written with warmth, gaiety, elegance and insight, Paris Dreaming is the ultimate chic, personal and charming memoir – not just for women who love Paris, but for anyone in search of that elusive good life.
Paris is an illustrated guide to one of the world's most-loved fashion cities by one of the world's most-successful fashion illustrators.
In the second of her series of books on classic fashion destinations, Megan Hess takes you on a super stylish adventure through the French capital, showing you the best places for a fashionista to eat, sleep, shop and play – all illustrated in her inimitable, elegant style. Megan's tour reveals where fashion icons such as Coco Chanel, Karl Lagerfield, Chistian Dior and Louis-François Cartier worked and played, the top restaurants, hotels, boutiques and sites to visit, as well as Megan's own personal favourite places to shop. This is a must-have insider's guide to Paris for any fashion lover or Francophile.
While this is suitable for both genders, I think little girls would love the Pointy Pembleton the dog. This gorgeous picture book features the gregarious greyhound hero Pointy Pembleton on his first visit to the dog park with a variety of male and female dog friends. The story explores themes of diversity and inclusion as Pointy navigates his way through the sometimes tricky process of making new friends.
This is a full colour, high quality, hardcover picture book is filled with whimsical watercolour illustrations and a charming story written in enchanting rhyme.
$5 from every book sold goes to Greyhound Rescue to help with costs associated with rescue, rehabilitation, and rehoming of greyhounds.
[maxbutton id="1″ url="http://pointypembleton.bigcartel.com/" text="Buy Now!" ]
Technology for Her
Ultimate Ears WONDERBOOM and Otterbox Symmetry Series Clear Case for iPhone 7 – Save Me a Spot
Perfect teen daughter and girly mum pressies
Ultimate Ears Wonderboom in Cashmere with OtterBox Symmetry Series Clear Case for iPhone 7 – Save Me a Spot
Enjoy your music the way it is meant to be heard with Ultimate Ears WONDERBOOM, the super-portable, waterproof, Bluetooth speaker with surprisingly big sound. WONDERBOOM blasts 360-degree sound that is clear, crisp and full of big, beautiful bass. Waterproof and worry-proof, WONDERBOOM floats on its own and sports a hanging loop on top. This little beauty is also a beast. It is drop-proof from up to five feet, boasts a 10-hour battery life and 100-foot wireless Bluetooth range*. To turn things up, connect two WONDERBOOM speakers together to party louder.
You can get it for $129 at JB Hi-Fi or you can snatch up two for $199 at Harvey Norman
An Ultra-slim, one-piece design, easy to put on and take off, the clear exterior is scratch resistant and the raised edge helps protect the touchscreen. I've put one on my rose gold iPhone and it looks very pretty.
Clothing and Accessories For Her
Kayelle Designs "I am loved" Mala Necklace and New Tassel bracelet in Rose Quartz
Perfect for the slightly hippy mum or grandma
ROC Sunglasses
All 4 Generations of women!
Looking for a fun gift that all 4 generations of the family can wear? Top left is for my nana (great grandmother). Top right is 'Wonder Woman' and is my teen daughter's style. Bottom right is definitely for my mum's style (grandmother) and bottom left is for mum, me. All are RRP $50 and available from ROC.
Kayelle Designsjewellery features necklaces and bracelets made with love using precious metals and natural gemstones. Each piece is thoughtfully designed with intention, with attention to the meaning of materials used, chakras and healing as well as fashion trends.
Inspired by yoga and our desire to bring our spirituality into our everyday lives, Kayelle Designs jewellery is designed to be classic but with a bohemian twist. All our pieces are handmade locally in Perth, WA.
The philosophy behind Kayelle Designs is to create beautiful, meaningful jewellery that amplifies the wearer's intentions and desires. I believe jewellery should reflect quite literally wearing your heart on your sleeve.
1922 "Jillian", Reversible, 25mm, Women's Leather Belt
For the classic fashionista in your life
This belt is reversible and would make a great classical statement in a stylish woman's wardrobe.I'd probably say that this is a mum gift.
Available in BLACK reversible option only. Construction: Genuine leather top (luxcoda print), genuine leather back (reversible). Buckle: Brushed nickel, twist reversible. Width: 25mm
iKotton Women's Underwear
A range of age/body shape appropriate styles
At iKotton, the undergarments are designed to be kind to her skin and gentle on the planet. iKotton believe in accentuating women's natural body contours through designs and cuts that need not be restrictive or uncomfortable.
Body fabric: 95% Gots Certified Cotton (40s, 190g), 5% Spandex, Lace: 85% Polyamide, 15% Nylon
Styles above:
Available in grey, pink, and blue – perfect for mum, grandma or great grandma
Available in grey, pink, and blue – perfect for daughter and mum
Available in grey and pink – perfect for grandma or great grandma who loves a full coverage brief.
Pink and blue, with lace trim – would suit daughter
This irresistible hipster has a low V cut front, providing half back coverage for the perfect hip line.
This style would be suited to a daughter over 15 and modern mums.
Gifts For Baby
Bonds Baby Girls Stretchy Leggings
Rock Your Baby Baby Girls Puppy Love Tee Green
This has to be the cutest tshirt as a gift for a baby girl. In Mint colour, material: 95% Cotton 5% elastane with short frilled sleeves Contrast graphic to chest Clip detail to back neckline
.
Well that's my round up for the top Gifts for Her 2017. If you'd like a last minute inclusion, get in touch, asap so I can slip you in before the sops close : )